The Middle Temple Noticeboard is place for advertising items that may be of interest to our members, for example external CPD lectures, wigs and gowns for sale, social events, work experience opportunities, accommodation, etc. The Inn does not accept liability for the accuracy of these notices.
If you would like to advertise on the Inn's Noticeboard please contact us at members@middletemple.org.uk.
Temple Church: The Charter of the Forest After 800 Years – 30 October
Monday, 9th October 2017
Monday 30th October 2017 at 5.45 for 6 pm in the Temple Church, Temple, London EC4.
The Temple Church will host a symposium based upon this Charter, which came into being 800 years ago, and two years after its more famous cousin Magna Carta.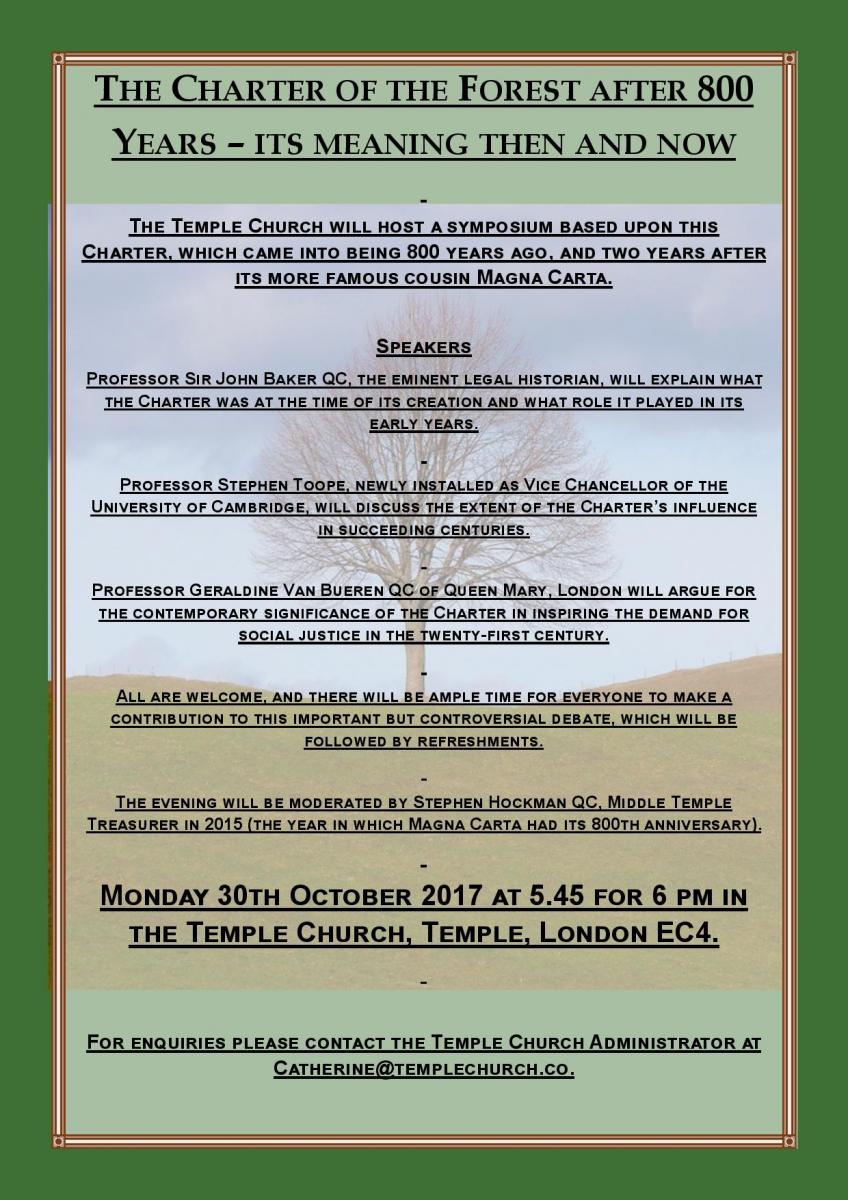 For enquiries please contact the Temple Church Administrator at Catherine@templechurch.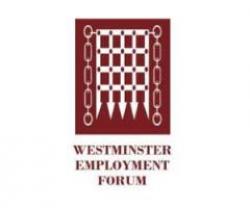 Westminster Employment Forum Keynote Seminar 2 November 2017
Tuesday, 3rd October 2017
Next steps for policy on supporting older workers, extending working lives and State Pension Age reform
with
Andrew Latto, Deputy Director, Ageing Society & State Pensions, Department for Work and Pensions
David Blackburn, Head of People, Financial Services Compensation Scheme
Anna Dixon, Chief Executive, Centre for Ageing Better and
Professor Paul Sweeting, Head of Actuarial Science, University of Kent
and
Christopher Brooks, Age UK; Dr Iain Clacher, Leeds University Business School; Dr Joanne Crawford, Institute of Occupational Medicine; Ben Franklin, International Longevity Centre UK; Professor David Grayson, Cranfield School of Management and Carers UK; Sandra Kelly, Whitbread; Mark Malcomson, City Lit and Tim Sharp, TUC
Chaired by:
Baroness Greengross, President and Chief Executive, International Longevity Centre UK and Baroness Jolly
Follow us @WEmFEvents | This event is CPD certified
Timing: Morning, Thursday, 2nd November 2017  
Venue: Central London
Eldon Law Scholarship
Thursday, 28th September 2017
Applications are invited for the Eldon Law Scholarship, which is a two year scholarship (with a value not less than £8,000 per annum), awarded annually to students intending to follow a career at the Bar.
The Scholarship is open members of the University of Oxford who have either:
a) been placed in the First Class of the Final Honours School BA in Law or BA in Law with Law Studies in Europe; orb) been awarded a Distinction in the degree of Bachelor of Civil Law or the degree of Magister Juris;and who are both:c) intending to practise at the Bar in the United Kingdom; andd) applying for the Eldon scholarship either before, or within two years of the date of, being called to the Bar.
For any queries, and to apply, email the committee secretary: iulia.mirzac@law.ox.ac.uk.
Application deadline: midnight, Sunday 5 November 2017.
Interviews will take place in Oxford on Saturday 27 January 2018.
Inns of Court Kalisher Representative
Tuesday, 12th September 2017
Inns of Court Kalisher Representative
The Role:
The Kalisher Trust is looking for one representative from each Inn who will assist:
the Trust at all Kalisher events, including education and fundraising;
in promoting Kalisher opportunities around the  Inns; and
in the administration of the Trust when required;
The Opportunity:
The Kalisher Trust team varies from junior members of the Bar to the senior Judiciary. All have a key role. You would be joining this team which will give you a fabulous opportunity to learn from and network with an evidently wide range of members of the legal profession.
This is a prime opportunity for students passionate about joining the Criminal Bar and who share the ethos of the trust.
Eligibility:
The successful candidates will:
have completed a law degree or Graduate Diploma in Law;
have completed or soon be taking the BPTC;
have an excellent academic record, and proven intellectual ability;
have a demonstrated interest in criminal law and the criminal justice system;
be motivated to succeed at the Criminal Bar, and have taken steps to develop skills and personal qualities necessary to succeed there;
have demonstrated potential as an advocate;
demonstrate financial need[1] (in confidence, candidates will be asked to supply the interview panel with appropriate evidence ).
Application Process:
Stage 1: cover letter (indicating your Inn) and CV sent to administrator@thekalishertrust.co.uk by midnight on the 1st October 2017. The cover letter must be no longer than 300 words and must explain:
why you want the role; and
how you satisfy the eligibility criteria;
Stage 2: 12 shortlisted applicants (3 from each Inn) will be invited for an interview with a panel drawn from Martin Shaw (Kalisher Vice President), Joe Harmston, Sir Brian Leveson (President of the Queen's Bench Division), Lady Justice Rafferty, Mrs Justice Carr, Max Hill QC, Merry Van Woodenberg (Kalisher Trust Secretary) and Ed Gross (Assistant Secretary).
[1] There is no financial award for becoming a Kalisher Trust representative. However, the ethos of the trust is based around helping those with limited financial backing. 
FLBA Autumn Lecture Series 2017
Thursday, 27th July 2017
Pages